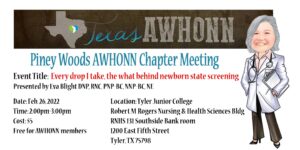 Every Drop I Take, The What Behind Newborn State Screening.
Eva Blight will be speaking on the details of the newborn screening test along with factors that can influence the results.  Eva has over 40 years of nursing experience and has worn many hats.  Currently, she works as neonatal/pediatric nurse practitioner in Tyler, TX and is faculty at the UT Tyler School of Nursing.  I can't wait to hear her speak!
If you are interested in joining us, register now.  I hope to see you soon!
Pricing:
Free for AWHONN Members
$5 for non members